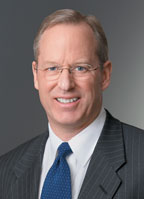 William C. Foote
Class C Class C Director, Chair, Term: 2007-2009; 2010-2012
Retired Chairman
USG Corporation
Chicago, Illinois
William C. Foote is retired chairman of USG Corporation, based in Chicago. In addition, he is chairman of the board of the Federal Reserve Bank of Chicago, and is a member of the board of The Kohler Co. and Walgreen Co.
USG Corporation is a multi-billion dollar manufacturer and distributor of high-performance building systems that serves the residential, non-residential, and repair and remodel construction markets. USG is the largest manufacturer of gypsum products in North America and largest distributor of wallboard in the United States.
Under Foote's leadership since 1996, USG has achieved success in diverse and changing markets. The youngest chairman in USG's 107-year history, Foote launched a large-scale expansion of its manufacturing operations that added more than five billion square feet of new, low-cost wallboard manufacturing capacity. Foote also directed the expansion of USG's specialty distribution business, L&W Supply Corporation, which now has more than 150 locations and is the only specialty dealer of building materials with a nationwide presence.
Foote successfully tackled the company's legacy asbestos liabilities and led the company through a Chapter 11 restructuring to protect shareholders from a wave of lawsuits. In 2006, USG announced an unprecedented agreement that settled all asbestos personal injury claims against the company, preserved shareholder value and repaid creditors in full — a first in any major asbestos agreement. In a Wall Street Journal article, Warren Buffet called it, "the most successful managerial performance in bankruptcy that I've ever seen."
Foote's previous assignments at USG include president and chief operating officer of USG Corporation; president and CEO of USG Interiors, Inc.; president and CEO of L&W Supply Corporation; senior vice president and general manager of Central Construction Products region, United States Gypsum Company; senior vice president, International and Business Development, USG Interiors, Inc.; and vice president, Strategic Planning, USG Corporation.
Prior to joining USG, Foote was a senior engagement manager at McKinsey & Company in Chicago and assistant treasurer at Chase Manhattan Bank in New York.
Foote is also a trustee of the Museum of Science and Industry, a life trustee of Northwestern Memorial Hospital and a member of the Civic Committee of the Commercial Club. In recognition of his civic leadership, he has received honors from several organizations, including the Heritage Award from the American Red Cross, Spirit of Life Award® from the City of Hope, the Leadership Award from the Lakefront SRO, the Humanitarian Services award from the Chicago Architecture Foundation, and the Children's Advocate Award from the Children Affected by AIDS Foundation.
Foote graduated cum laude from Williams College with a bachelor's degree in economics and holds a master's degree from Harvard Business School. He is a member of Phi Beta Kappa and was a member of the Century Club at Harvard.