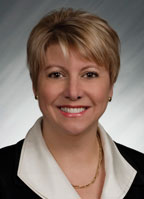 Ann D. Murtlow
Class B Director, Term: 2007, 2008-2010; 2011-2012
President and Chief Executive Officer
AM Consulting LLC
Indianapolis, Indiana
Ann D. Murtlow is currently the principal in her consulting firm, AM Consulting LLC, which provides business strategy and leadership consulting to businesses, non–profit organizations and academic institutions. Prior to forming her own firm, Murtlow was an AES Corporation executive and became one of the few female CEO's in the electric utility industry. In her most recent position, she was the President and Chief Executive Officer at Indianapolis Power & Light Company.
Murtlow began her 30 year work career at Bechtel Power Corporation one of the world's leading engineering and construction firms. She was recruited to AES Corporation headquarters in Arlington, Virginia in 1987 to lead the environmental permitting activities for new power stations in the U.S. and abroad. Her career progressed into other areas of project and development, including commercial negotiations and project finance.
In 1997, Murtlow moved to AES' regional office in London, England where she was responsible for business development and operations in 22 Northern and Central European countries. During this time, she also served as the liaison to the AES Board of Directors on environmental issues. She was named an officer of AES Corporation in 1999.
In 2002, Murtlow was named President and Chief Executive Officer of IPL where she was focused on providing value to company stakeholders through operating excellence in the areas of safety, environmental performance, reliability, customer service, financial performance, employee engagement and community leadership.
Over the course of her career she received many community and industry recognitions including Electric Light & Power Magazine's 2010 Large Utility CEO of the Year Award. Murtlow's past and present board affiliations include: Central Indiana Community Foundation, Central Indiana Corporate Partnership, Economic Club of Indiana, Edison Electric Institute, Federal Reserve Bank of Chicago, Herff Jones, Indianapolis Chamber of Commerce, Indiana Energy Association, Indianapolis Zoological Society, The Mind Trust and Women's Fund of Central Indiana.
Murtlow received her Bachelor of Science degree in Chemical Engineering from Lehigh University in 1982.