Visit the Money Museum!
Located at 230 S LaSalle St, the Bank's Money Museum is free and open to the public year-round from 8:30 a.m. to 5 p.m., Monday through Friday, except on Bank holidays. Please read below or call (312) 322-2400 with questions.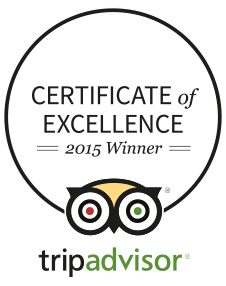 Money Museum Wins 2015 Award
Thanks to the reviews and votes of the over 40,000 vistors we see each year, the Chicago Fed's Money Museum won a Trip Advisor Certificate of Excellence in 2015.
According to TripAdvisor, the award honors "establishments that consistently achieve outstanding traveller reviews on TripAdvisor" and that "represent the upper echelon of businesses listed on the website."
"We're honored to receive this award," said Museum Director Patrick Maun. "We work hard to provide a unique experience for visitors to downtown Chicago."
Before You Visit
Preview the displays at our Virtual Money Museum. Teachers, we also have links to resources you can use in the classroom before you visit, or you can try out our interactive quiz. You can also check out the Money Museum floor map to plan your visit!
While the Museum is open to all visitors, the exhibits and display content are most appropriate for middle school students and above. The presentation included in a guided visit covers information about the Federal Reserve System and its functions.
Daily Guided Visit
A guided visit to our museum, open to visitors without a reservation, lasts roughly 30 minutes and is available at 1 p.m. Monday through Friday. You can visit the Money Museum on your own at any time during open hours (see the "Please Keep in Mind" section at the bottom of the page for important information).
The guided visit includes:
A presentation about the functions and responsibilities of the Federal Reserve System and the Chicago Fed
Detailed information about the Money Museum's historical currency collection
A short video about the operations of the Chicago Fed
A question-and-answer session following the video
Scheduling a Guided Visit
If you have a group of 15-49 people, you may reserve a guided visit beginning on the hour between 9 a.m. and 4 p.m., daily. Reserved visits cover all of the material listed above, but advance reservations are required, and we are often booked several weeks in advance. Reservations can be made up to six months in advance.
For groups larger than 49 people, divide your group and schedule separate visits for each group, or contact the Museum staff. If you would like to reserve a visit but do not meet the above requirements or cannot find a suitable time, please contact the Money Museum using the information at right. We may be able to accommodate your needs.
Branch Visitors Center
There is also a Visitors Center located at the Bank's Detroit Branch. Please see the Detroit Branch Visitors Center page for information on hours, location and visit availability.
Security Screening
All individuals visiting the Money Museum will be subject to the Federal Reserve Bank of Chicago's screening process. The following items are not allowed in the Museum. This includes, but is not limited to:
Fire arms
Stun guns
Knives, including large pocket knives
Utility/Box cutters
Explosives
Pepper spray or mace
Illegal drugs
Other illegal or potentially dangerous or destructive items
Prohibited items, not illegal, that are detected will be placed in a container, marked with owner's name, for return at the end of the visit.
At no time are firearms allowed into the Museum regardless of concealed carry status. Individuals may not store them and will be asked to leave the premises.
Illegal items that are detected will be confiscated and not returned to the owner.
Please Keep in Mind
Here are a few guidelines to prepare for your visit.
All adult visitors must show a government-issued photo ID before entering the Money Museum
No food or drink is allowed
School tours require one adult for every ten students age 17 or younger
There are times when the Money Museum may be closed for security or other reasons — every attempt will be made to provide prior notice on our website when that occurs